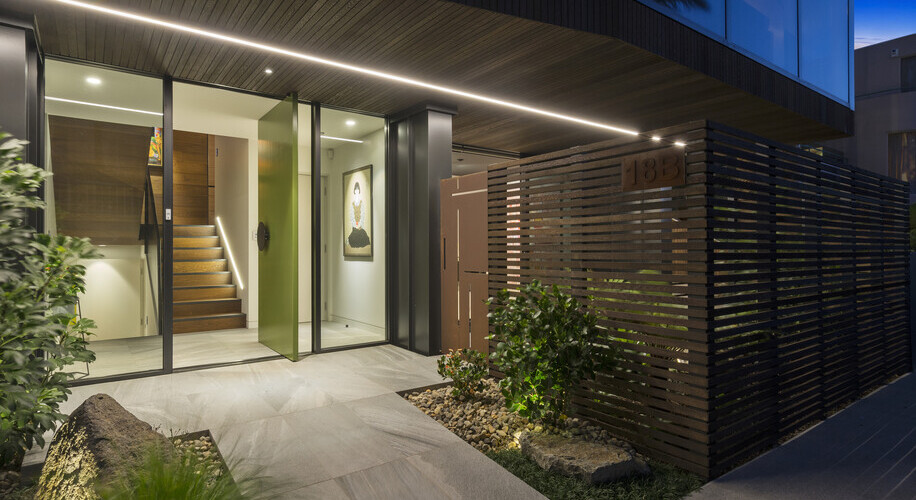 2016 SUPREME AWARD WINNING HOME
Integrity, smart thinking and genuine hard work have lead to D&B Construction winning seven titles plus a Gold Reserve at this year's House of the Year Awards. Demonstrating clever and considered design the build was planned and executed with precision and intelligent construction. With the brief constantly testing the builders and the restrictive site of only 228m2, the resulting home boasts 272m2 of luxuriant living in the heart of Mount Maunganui.
Dave Merrett and Ben Gorinski, partners in the company, are incredibly proud of what they and their team have accomplished. Speaking at the awards dinner, Ben said this would not have been possible without the effort of those behind the scenes and the loyal support of our subcontractors. Taking home the supreme award for Bay of Plenty Central Plateau Registered Master Builders 2016 House of the Year is the icing on the cake.
Throughout the project the builders had to constantly manage the site as its access was shared with the neighbouring homes. The judges noted this challenge, among others.

Three bedrooms, three bathrooms and three living spaces are spread over a jaw-dropping five levels. A balance of Cedar weatherboard and Euroline Seamlok clads the exterior and soffits. Glass windows offer natural light and exciting views. Characteristic combinations of vertical and horizontal lines lure you into the garden spaces. Vibrant shades of green pop against rustic timbers and dark louver paneling. Extensive Iroko decking shapes two intimate outdoor areas. It is the finer details D&B Construction think about when listening to their clients, no wonder they achieved the Outdoor Living Award too.

Super wide sliding glass doors offer an even flow from the outside to the inside. Interior glass balustrades and matt black ceilings feature in the kitchen and main living area. Dark stained oak furnishes the flooring, ceilings and wall linings creating space and intrigue. Neatly tucked away on the lower level is a very comfortable self-contained studio.

The bathrooms, which won the Plumbing World Bathroom Excellence Award, create tranquillity and peace. Traditional dark and light qualities mixed with seamless glass and tile finishes will not disappoint. The interior has been immaculately finished with quality fittings and an eye for elegance. It is a magical balancing act of skill, knowledge and the ability to finish without compromise.
"One home and seven awards is an impressive achievement, given this was their first time entering."